In summer 2010, eight UNC undergraduates traveled to Tanzania to document the need for clean water
By Anita Rao
As a student trained in journalism, oral history and ethnography, I usually feel capable of conducting interviews and entering into conversations with people whom I don't know. As a daughter of two foreign-born parents, I have been fortunate to travel around the world and live in a diverse range of communities. But as I stood with my fellow UNC student documentarians outside of a Maasai hut in rural Tanzania, I knew that even with my training and background, this project would be a complicated and challenging adventure.
In the summer of 2010, seven other UNC students and I interned for Students of the World, an organization that pairs teams of college students with philanthropic organizations that provide innovative solutions to global problems. Through sponsorship from the Institute for Global Health & Infectious Diseases, the Center for Global Initiatives and other local partners, we spent four weeks in the Mt. Kilimanjaro region of Tanzania documenting the work of Children's Safe Drinking Water (CSDW). CSDW is a nonprofit that provides PUR Water Purification packets to individuals living without clean water access. PUR packets remove 99.9 percent of bacteria and viruses from water, so they are a fast and effective way to turn contaminated water into drinkable water.
As we traveled through the region, we spent time with different organizations and communities that are distributing PUR packets to understand how PUR is helping address the global clean water crisis. CSDW reports that every day more than 4,000 children in developing countries die because they lack access to clean water. So, as journalists, filmmakers, photographers, and graphic designers, we set out to explore this statistic by examining the range of water issues affecting these communities.
But to accomplish this task, we had to look beyond issues of water quality and water access. We had to explore how the clean water crisis is connected to a number of other health and social issues, like HIV/AIDS, gender inequality and education. We searched to find memorable stories that explain how all of the pieces of the water web fit together. This search took us to USAID offices in Dar Es Salaam, inside the homes of people living with HIV/AIDS in Moshi, and to Mswakini-Chini, a rural Maasai village outside of Arusha.
Maasai are a semi-nomadic ethnic group located mostly in Kenya and northern Tanzania. Most Maasai families have a polygamous family structure, so families often consist of fifteen to twenty people, including a husband, several wives and children. Each family lives on a plot of land called a boma, which consists of several huts in a semicircle and a small pen for their goats, cows and chickens.
As we approached the village for the first time, from the main road I could only spot one or two small huts among a vast spread of grassy plains. Women carrying buckets of water on their heads walked along the pavement and veered off onto dirt paths that dotted the roadside. Upon arrival at a small building near the center of the village, we met groups of community leaders, nurses and health volunteers who would serve as our guides and liaisons as we interacted with various families throughout the week.
The community leaders explained to us that a lot of things have changed since they began to use PUR packets. In order to distribute PUR packets effectively, a local hospital helped the community establish a system of health volunteers that visit each family weekly to distribute PUR packets and other health sanitation information.
Loserian Lukumay is one of these community health volunteers, and we spent several days with him during which he also shared his own story. As a father of six, he must farm maize daily and do small odd jobs to make enough money for his family, but he still makes time to volunteer on the side. While providing training on how to use the PUR packet, Loserian and his volunteer counterparts also educate families on how to build and upkeep latrines and report other health concerns.
Before this volunteer health system began in 2009, there was no form of human waste management in Mswakini, so people plagued with diarrhea from drinking contaminated water were defecating in the fields behind their houses, which were next to areas where their neighbors were living, cooking and possibly fetching their water. Loserian's story not only reflects the incredible spirit of volunteerism we witnessed throughout all of these communities, but also a deeper story about community health dynamics. Our team began to notice that the story of clean water access in Tanzania is just as much a story about the people that provide services and educate others as it is about water.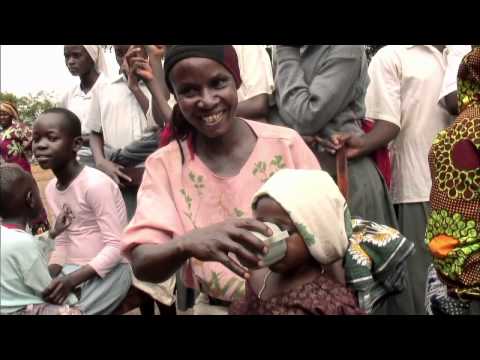 After we spent the week in Mswakini-Chini meeting and interviewing parents, school children and other community members about PUR, we spent a day with a Maasai woman named Einoti John; Einoiti was one of the first people to receive PUR in her community. Einoti lives in a 15 by 22 foot mud house with her husband and two young daughters. Like most Maasai women, each day she wakes up early to fetch water for her family to use throughout the day for cleaning, drinking and cooking; she farms maize in the afternoon and takes care of all other home responsibilities throughout the day.
Our experiences with Einoti brought us closer to understanding how prominent of a role water plays in the everyday lives of Maasai women. Women are responsible for fetching, cleaning and distributing water to their family, all of which can take hours of work if the water source is far away or they have to search for firewood to boil water. Now that Einoti uses PUR, she can clean her water quickly and safely at home, but water politics are still present everywhere in her community. Huge droughts in the summer threaten the livelihoods of many families in this area and young children without clean water access miss large amounts of school due to diarrheal diseases and water-borne illnesses.
We learned firsthand that genuine relationships are crucial to documentary work.  Even though we were strangers, she welcomed us into her house the first morning with spicy, ginger tea. After we helped her with chores and accompanied her to fetch water, she fed us a fire-cooked maize dish in the afternoon from maize she had handpicked the day before. Her kindness, generosity and open storytelling inspired us to create holistic, detailed media to promote a thorough understanding of the far-reaching impact of water sanitation issues.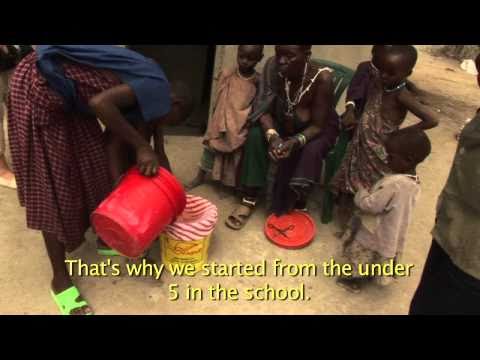 After spending four weeks in Tanzania meeting people, interviewing across language barriers and trying to grapple with the complexity of everything we were uncovering, we returned to Austin, Texas to produce media for Children's Safe Drinking Water. But for me, the groundwork in Tanzania was only the beginning; even though the interviews were over and the questions were asked, as I wrote stories, created radio pieces or assembled multimedia slideshows, I found myself constantly working to find the most authentic and compelling way to share the stories we heard.
To talk about clean water issues in Tanzania meant tracing issues of health, education, poverty and politics, and we only had four weeks of experience to draw from. But, as we reflected on memories of families living in extreme poverty or interviews with women who wanted to start microfinance initiatives with PUR, I knew that in order to do justice to the relationships we built, I must commit myself to finding ways to continue telling these stories. I have witnessed that in the world of scientific research, individual voices and experiences are often lost. So through our work we hope to supplement raw facts and statistics with lived experience. We are working to provide personal, memorable stories through which we can all expand our commitment to working to solve the global clean water crisis.
Learn more about this project
Check out the UNC 2010 Students of the World team blog
Read guest posts from the team on our blog, GH Notes
Watch the Students of the World YouTube channel
*****
Anita Rao is a senior at UNC. She is majoring in women's studies and international studies